Air starting solutions for diesel & natural gas engines.
MASCO™ manufactures air starters for use on large industrial engines. We are a leading provider of OEM and aftermarket air starting systems, parts, and components used to start critical engines. MASCO maintains the industry's largest inventory of cores, parts, and air starter components. We've earned a reputation for delivering unmatched service and quality to keep your engines running.
Our products start big engines, so our motto – Start Something Big – came naturally. But the slogan isn't just about starting engines. We believe that your work and our work matters — it's what motivates us individually and collectively to strive for excellence. So together, let's START SOMETHING BIG.
EXCHANGE REMAN STARTERS
Fast and just in time delivery of remanufactured air starters requires an abundant core inventory. Learn more about how we do it.
LOCOMOTIVE AIR STARTERS
MASCO maintains a large on-hand inventory of locomotive air starters and parts for EMD and other engine models.
IR DISTRIBUTORSHIP
No other air starter company can claim the depth of innovation and integrity as Ingersoll Rand. Masco is a proud Platinum IR Distributor.
Parts
MASCO supplies new replacement air motor components for IR and TDI air starters. Discover M-Parts.
WHAT CUSTOMERS ARE SAYING
MASCO enjoys many long-standing relationships with some of the industry's finest people. We are proud to share a little of what they have to say.
FAQ
Here are some common questions about MASCO and its products. Find out the answers and a few interesting facts.
WHY MASCO?
Access to over 30 years of OEM & aftermarket expertise
Massive inventory ready to ship
Custom air starter repairs
Lower total costs & longer starter lifetimes
Products designed to perform safely
High-performance parts designed to fit & function 100%
Premier Ingersoll-Rand Air Starter Distributor
Built in the USA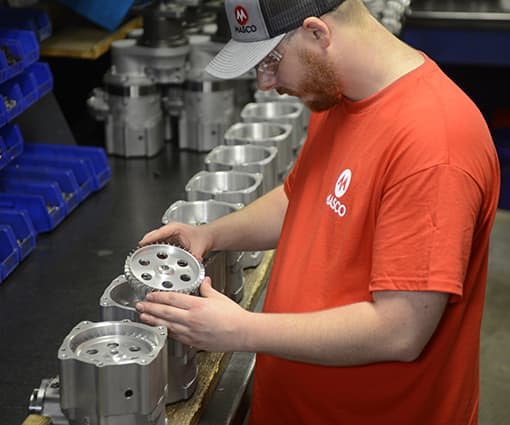 QUALITY, RELIABILITY & ON-TIME DELIVERY
INVESTED IN YOUR SUCCESS
Meeting your deadline is important. That's why we invest heavily in technology and materials to build the best inventory of air starters and parts in the industry.
Built and Assembled in the USA